MARINE LED DOWN LIGHT


SCM-DL
The SHADOW-CASTER™ marine LED down light SCM-DL is perfect for lighting overhead areas of the interior and exterior of your boat or yacht.
At 2" overall diameter, its wide angle spread of light makes this perfect for lighting T-Tops, cabins, towers and more. Easily control the brightness and color from a standard switch.
The SCM-DL series is available in 4 lighting color output options: single color white; 2 color (blue and white); 3 color (white, blue and red) as well as a full color version. Choose from two color finishes – white or black.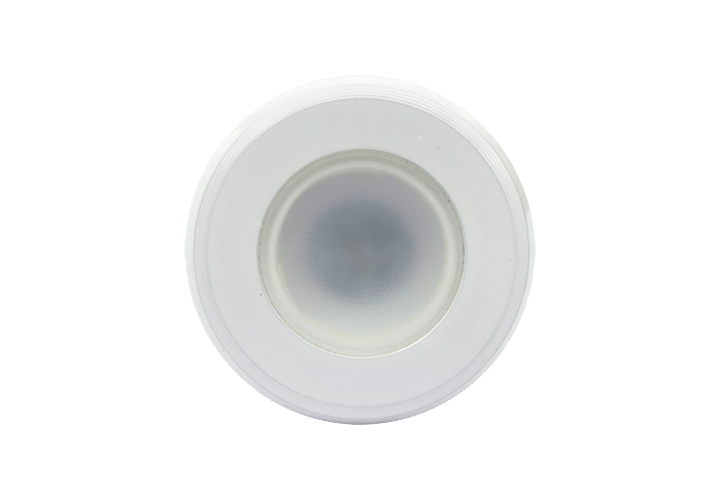 COLORS AVAILABLE / PART NUMBER
TECHNICAL INFORMATION
300 lumen output
120° beam angle
3 watt power draw
10-30 volts input
250mA at 12 volts, 125mA at 24 volts
6200 Kelvin cool white color temperature
2″ (51mm) OD, 0.175″ (4mm) mounting height
1.25″ mounting hole
Durable glass lens
IP67 waterproof design
Color change version includes Shadow-NET™ interface for controlling color Part# SCM-DL-CC-WH/SCM-DL-CC-BK
Color change version available in white powder coated or black anodized finish
POWER TOGGLE CONTROL
Quickly toggle power source to advance to next color or brightness level.
SHADOW-NET™ CONTROL
Full-feature control through your Multifunction Display (MFD) by adding the Shadow-NET™ control module (SCM-MFD-LC-KIT) & app.
Dramatically enhanced lighting capabilities through your existing MFD allows for unlimited shades of color and fading, dimming, strobe rate, music sync, multiple zones and much more.