SINGLE ZONE LIGHTING CONTROL & SWITCH
SCM-SWITCH-O-O/MOMENTARY + SCM-SNLC
When the SCM-SWITCH-O/O/MOMENTARY is combined with our Single Zone Lighting Control SCM-SNLC a wider range of control options are accessible.
KEY FEATURES:
Power On/Off
RGB, RGBW, 2 color and single color lighting
Multiple fade mode changes
Brightness
Strobe
Simply toggle power to set color and brightness and to select multiple fade modes.
The SCM-SNLC control also has a built in Shadow-NET™ interface that allows the controller to synchronize color and lighting with other Shadow-NET™ devices. This provides a convenient way to make SHADOW-CASTER™ underwater lights match the color of interior RGBW lighting.
For use with fishing boats, pontoon boats, sports boats and yachts.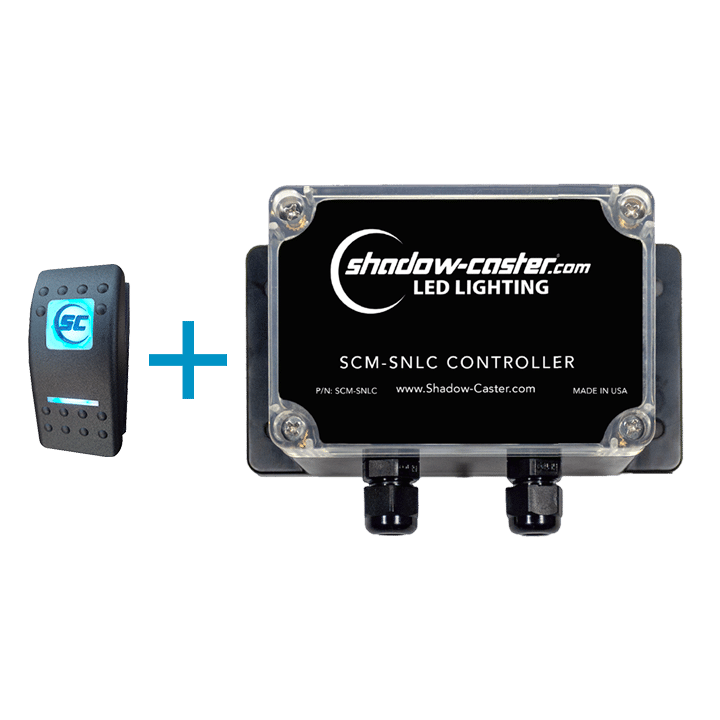 Internal RGBW back light to indicate current color and mode
Selectable RGB or RGBW output to support an optional white channel
Color coded connections make for easy installation
Exclusive power control technology to mitigate effects of electrical noise
Can be added to an existing Shadow-NET™ network as an additional RGBW zone
Integrated Shadow-NET™ interface broadcasts lighting commands to synchronize other Shadow-NET™ enabled lighting products such as underwater lights and down lights
Custom software versions available for boat builder applications. Contact SHADOW-CASTER™ support for more details
3-Year Warranty
POWER TOGGLE CONTROL
Quickly toggle power source to advance to next color or brightness level.
Cycle power to select color: white, blue, red, green, aqua, blue-violet, violet, magenta, yellow, purple, orange, green-yellow.
Toggle power on initial power up to set brightness.
PUSH BUTTON CONTROL
Connect to any push button controller. Ask about Shadow-Caster's highest quality, marine-grade push button controllers, optimized to work seamlessly with your lighting requirements.
Single color fade, multi-color fade, and multi-color rotate with optional push button input.
Press and hold button to dim or increase brightness of lights.
SHADOW-NET™ CONTROL
Full-feature control through your Multifunction Display (MFD) by adding the Shadow-NET™ control module (SCM-MFD-LC-KIT) & app.
Dramatically enhanced lighting capabilities through your existing MFD. Unlimited shades of color and fading, dimming, strobe rate, multiple zones and much more.
Shadow-NET™ is a multi-channel communications platform created by Shadow-Caster to allow seamless integration and control of all of your boat's lighting.
TECHNICAL INFORMATION
5.2″ (132mm) x 2″ (51mm) x 2.75″ (70mm)
10-30 volts input range
Support for 250W of RGBW lighting, 20 amps power
IP65 washdown rated enclosure
ATC fuse for protecting the output
INCLUDES
Lighting controller
Mounting hardware
Quick start guide