Shadow-Caster has partnered with Johnson Outdoors to integrate its state-of-the-art Light Commander PLUS lighting controller into Humminbird® APEX™ Series GPS chartplotters and SOLIX fish finders. Humminbird users now gain convenient fingertip control over their vessel's interior, exterior and/or navigation lighting.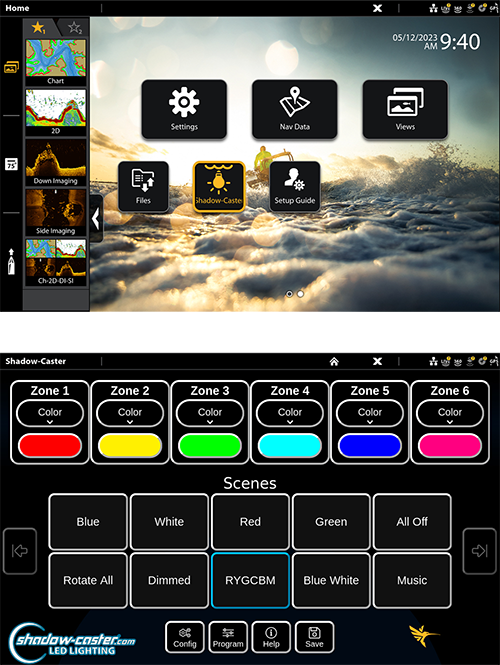 "Consumers choose Humminbird because of our commitment to providing innovative technology that's exceptionally easy to use," said Kyle Gilbert, Humminbird associate brand manager. "With the integration of the Shadow-Caster™ lighting controller, we're able to expand our compatibility with advanced accessories for our APEX or SOLIX lines so anglers can customize their experience and make the most of their time on the water."
Integrating the device is as simple as connecting the Shadow-Caster™ Light Commander PLUS into the chartplotter or fishfinder using Humminbird's optional 10′ L AS EC CHART – PC Networking Cable.
The IP67-rated lighting controller is compact at only 8.9″ L x 4.75″ W x 1.8″ H. Because it's a true plug-and-play component, installation is fast and easy for both OEMs and DIYers.
"Humminbird is an iconic American brand that fishermen everywhere identify with quality and innovation," said Brian Rogers, Shadow-Caster president. "We're excited to partner with Johnson Outdoors to provide their customers the ability to integrate our easy-to-use centralized lighting control."
Since 1971, generations of anglers have relied on Humminbird's simple-to-use technology to catch more fish—and avoid the occasional stump. Its website is https://humminbird.johnsonoutdoors.com/us.
Contact Shadow-Caster:
Tel: 727-474 2877
info@shadow-caster.com
www.shadow-caster.com
For more information on the cutting-edge Light Commander PLUS, consumers and OEMs are invited to visit Shadow-Caster distributors at ICAST, July 11–14, in Orlando, Florida, booths 1609 (Wintron Electronics) and 3202 (CWR Wholesale Distribution).