Whether OEM or DIYer, connecting and individually fusing underwater lights to a power source can be a time-consuming wiring nightmare. Shadow-Caster simplifies the installation process with the Digitally Controlled Lighting Switch SCM-PWR6 and 4-Position Power Control Module SCM-PD4CH.
Made in the USA, Shadow-Caster™ power modules are compatible with 12V or 24V systems. They accommodate up to 10 amps per channel with digital over-current fault protection and individual self-healing fuses. A blue LED backlight indicates the power state while green and red LEDs provide channel status. The compact 7.9″ W x 3″ H x 1.3″ D housings are IP67 washdown-rated and have 5/16″ power lugs with protection boots for mounting in a bilge or other wet location.
The SCM-PWR6 is a six-channel digital switch module that provides the ability to control any six vessel lights or fixtures. Compatible with Shadow-Caster™ Light Commander PLUS and its MFD Lighting Control Kit, it will also turn on and off other brands of lights through these devices or the company's companion mobile app. Once connected, the SCM-PWR6 automatically populates Shadow-NET®; a switch input allows for overriding the interface.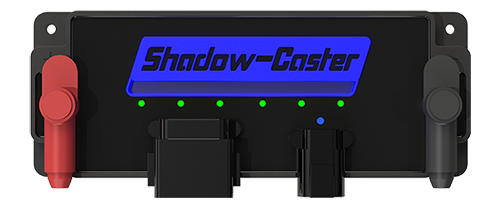 The Shadow-Caster™ 4-Position Power Control Module SCM-PD4CH has four channels. It's compatible with single- and multi-color lamps and is recommended when installing two or more underwater lights. It can be used with a helm-mounted switch or none when using a compatible Shadow-NET® controller.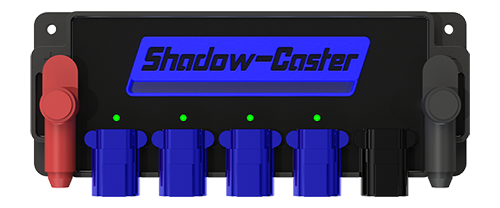 The Shadow-Caster™ Digitally Controlled Lighting Switch SCM-PWR6 has an MSRP of $389; the 4-Position Power Control Module SCM-PD4CH is $249. They come with a three-year warranty.
Shadow-Caster manufactures a wide array of underwater, interior and exterior marine lighting fixtures, and NMEA-compatible controls. The company was an integral part of the NMEA Lighting Working Group that developed the current industry standards.
Contact Shadow-Caster:
Tel: 727-474 2877
info@shadow-caster.com
www.shadow-caster.com