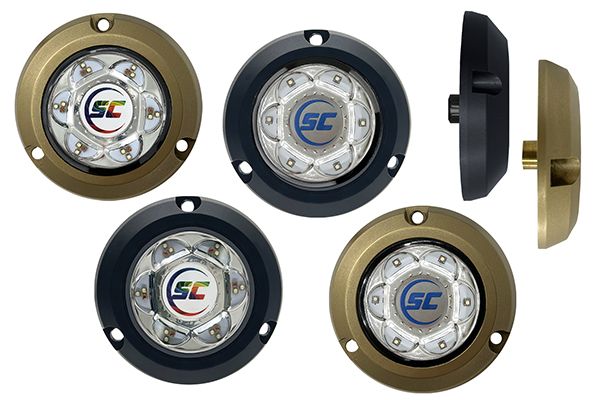 Steps, chines, strakes and skegs on performance-oriented hulls often present a challenge when mounting underwater lights. With their subcompact 2.99″ diameter, the new SC2-SM Series from Shadow-Caster makes it easy for OEMs, custom boatbuilders and DIYers to install a premium—and incredibly reliable—underwater lighting solution on virtually any hull. The fixtures debut at IBEX, Tampa, Florida, October 3-5, booth 3-1735.
Designed and manufactured in the USA, Shadow-Caster SC2-SM Series lights provide 24 watts and up to 3,000 lumens of intense LED lighting. The fixtures are available in four lamp colors: Bimini Blue, Great White and Full Color. All have a 0.58″ H low-profile IP68 waterproof housing in a choice of bronze or black, high-strength composite. They surface mount with three included screws.
The SC2-SM Series uses a proprietary gel-filled design. Injected throughout the entire unit, the fluid eliminates condensation and/or water intrusion when under stress. The lens is a rugged, scratch-resistant tempered glass that's impervious to acetone and other solvents, and delivers a 120° beam angle for optimum illumination.
Drawing a mere two amps when operating on 12V, the SC2-SM Series uses 10–30V input power. They feature transient surge and reverse polarity protection. With thermal throttling technology, the fixtures can be run safely out of the water.
Shadow-Caster offers a range of controls for its SC2-SM Series of underwater lights. With the Power Toggle Control, users can quickly step brightness up or down or choose among 12 standard colors, depending on the model. With its innovative Shadow-NET® Control module and CC (color change) lamp models, unlimited color, fading, dimming, strobe rate and music sync can quickly and efficiently be changed—all through a multifunction display and the companion app.
The SC2-SM Series of underwater lights from Shadow-Caster range in price from $229 to $264. They come with a three-year standard warranty.
Contact Shadow-Caster:
Tel: 727-474 2877
info@shadow-caster.com
www.shadow-caster.com