Marine LED lighting and control systems manufacturer SHADOW-CASTER™ has been awarded the prestigious NMEA Best New Product Award at the 2021 National Marine Electronics Association (NMEA) Conference & Expo on September 23. The annual award celebrates one product that is deemed best in the areas of innovation, benefit to boaters, practicality and value.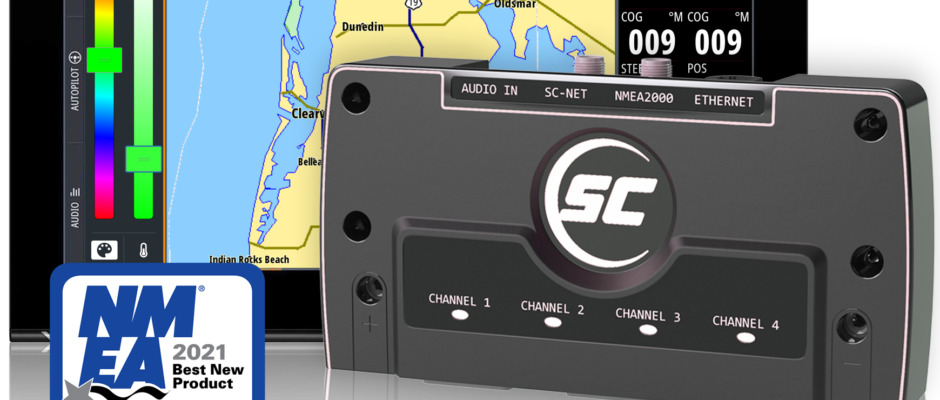 Taking top honors was Shadow-Caster's Light Commander – the first marine lighting controller to work with the new NMEA 2000® lighting control Parameter Group Numbers (PGNs). "Utilization of NMEA 2000® lighting standards enable next-level implementation of lighting control and marine system integration and system interoperability," said Mark Reedenauer, NMEA president and executive director.
A product launch of the award-winning Light Commander is scheduled for the 2021 METSTRADE Show, the world's largest trade exhibition of marine equipment, materials and systems November 16-18 (stand 05.312).
Shadow-Caster's CEO Brian Rogers stated, "When we began developing digitally controllable underwater lights over a decade ago, there was an absence of industry standard lighting control messages for the marine environment. For many years we designed and developed lighting control solutions to enable integration with NMEA 2000 products. Our team's expertise in this field was instrumental in working closely with the NMEA to develop a set of NMEA 2000 lighting standards. Since receiving the 2021 NMEA Best Product Award, we have been engaged in discussions with boat builders from around the globe and look forward to showcasing the SCM-LC Light Commander at METS."
Shadow-Caster manufactures a complete range of marine LED lighting and controls for boats and yachts of all types and sizes. Designed to the stringent standards for operation in the harshest marine environments, all products are made in the USA in our state-of-the-art facility using a multi-disciplinary approach that includes expertise in electrical, optical, military-level mechanics, and software engineering. Since 2008, Shadow-Caster has built its reputation on producing bright, high-quality, and rugged lighting and control solutions that enhance vessel aesthetics and increase safety. Our lighting controls offer customers the opportunity to create single and multi-zone functionality; plug and play integration with Multi-Function Displays (MFDs); and seamless integration into existing NMEA 2000® networks.
Find out more: https://www.shadow-caster.com/products/marine-led-lighting-controls/nmea2000-lighting-control-multi-zone-lighting-controller/