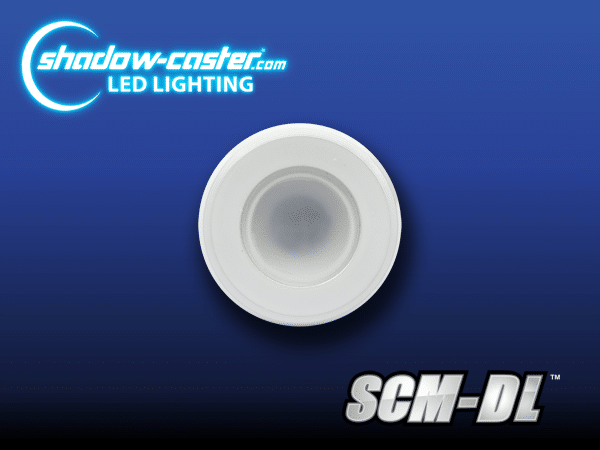 Shadow-Caster LED Lighting is introducing the SCM-DL Down Light as the latest lighting innovation to their growing line of marine lighting products. The Down Light is perfect for lighting the overhead areas in the interior and exterior areas of your vessel. It's also ideal for lighting T-Tops, cabins, and much more.
Shadow-Caster President, Brian Rogers notes that "The SCM-DL was designed to withstand the harsh marine environment and has been built out of high quality, durable materials, including a marine grade, white powder-coated finish." The SCM-DL offers a wide spread of light available in multiple colors and varieties. The SCM DL will be available in four different color choices.
Features of the SCM-DL include:
Thin Design (.175" thick)
2" Outside Diameter (1 ¼ " Mounting Hole)
250 Lumens
10-40 Volts Input
3 Watts
Includes Bracket and Hardware for Flush Mounting Option
Install Diagram
Shadow-Net Enabled
2-Year Warranty
Made in the USA
The SCM-DL joins the growing list of SCM underwater and above water lighting products. For information about other Shadow-Caster lighting products, go to www.shadow-caster.com.
–SC–
About Shadow-Caster Marine LED Lighting:
Shadow-Caster Marine LED Lighting is the leader in manufacturing High Intensity LED Lights, Controllers, and Accessories. Established in 2007, Shadow-Caster designs and manufactures LED lighting products for both marine and outdoor use and offers a wide variety of underwater and above-water marine lights, lighting controllers and accessories, and outdoor LED lighting systems. Located in Dunedin, FL, all Shadow-Caster products are designed and assembled in the USA. For more information, go to www.shadow-caster.com.