MFD CONTROL KIT


SCM-MFD-LC-KIT
Control all of your marine lighting through your vessel's touch screen interface and the Shadow-Caster® easy to use Multi-Function Display Lighting Controller SCM-MFD-LC-KIT. Our unique system provides color, brightness, and multiple fade, strobe and music sync modes for up to 6 zones.
Simply plug into your system's network interface and step through the on-screen setup. There is no additional software to install or complex configuration.
The Shadow-Caster® Lighting Controller is compatible with most major MFD manufacturers including Garmin™, Simrad, Lowrance®, B&G, Raymarine® and Furuno. Our SCM-MFD-LC-KIT is also compatible with all standard RGB and RGBW lighting.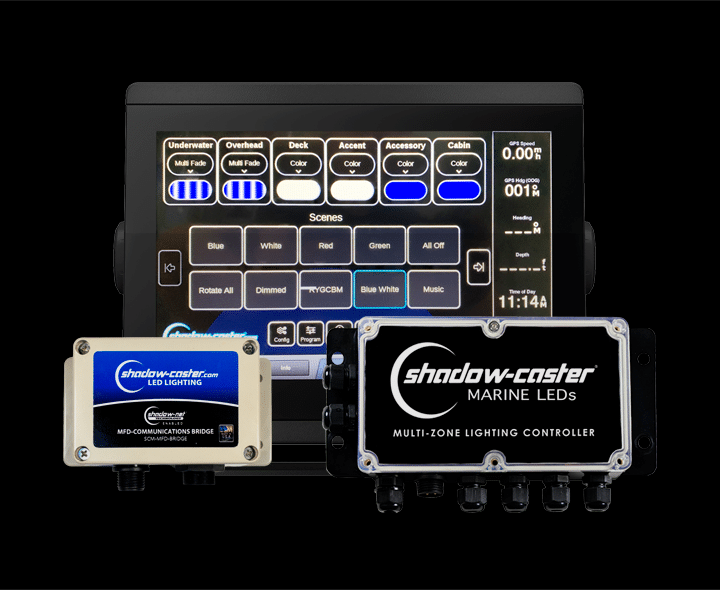 No software to download, simply plug into your display's network to access the system
No extra power switches required. Our system will control all on/off power requirements for the lighting including optional Shadow-NET® lights
Easy to use graphic interface
Simply connect Shadow-NET® devices including Shadow-Caster® underwater lights or downlights and assign them to a zone
Compatible with all standard RGB and RGBW lighting
On screen setup allows you to confi gure and name up to 6 separate lighting zones, including, underwater lights, accent lights, and speaker lights
Control color and brightness for each zone
Control speed and color sequence for fade and strobe
4 different music sync modes
Endless lighting "scenes" can be configured and easily recalled
2-Year Warranty
Shadow-Net® is a multi-channel communications platform created by Shadow-Caster® to allow seamless integration and control of all of your boat's lighting.
INCLUDES
Multi-Zone Lighting Controller (SCM-MZ-LC)
MFD Communications Bridge (SCM-MFD-BRIDGE-STANDARD)
Standard ethernet cable which provides compatibility with most systems (Manufacturer adapter may be required – see chart)
Mounting hardware
1 meter Shadow-NET® communication cable (SCM-SCNET-01)
Quick start guide
OPTIONAL SHADOW-NET® CABLES
2 metre cable
SCM-SCNET-02
4 metre cable
SCM-SCNET-04
Y Cable for Adding SCNET Control Devices
SCM-SCNET-Y
TECHNICAL INFORMATION
4 individually fused 15 amp RGBW lighting connections
Compatible with 12/24 volts systems
3.5 mm female audio connection input for music sync
IP65 washdown rated enclosures
Color coded connections make for easy installation
On-board indicator lights for system diagnostic
Up to 6 zones of control
Custom configurations available for boat builder applications Contact Shadow-Caster® support for more details
IP protocol for standard network interfaces as well all other applications
COMPATIBILITY AND CABLE REQUIREMENTS
MANUFACTURER
OPTIONAL IP67 SHADOW-CASTER CABLE
REQUIRED
CABLE FROM MANUFACTURER
SCM-MFD-Cable-Garmin
PN: 010-11425-09 Cable
PN: 010-10580-10 Isolator
SCM-MFD-Cable-Navico
PN: 000-0127-56
SCM-MFD-Cable-Navico
PN: 000-0127-56
SCM-MFD-Cable-Navico
PN: 000-0127-56
–
PN: A80247
–
–
NOTE: Limitations and exclusions may still apply to compatibility.

We have made it our mission to create the best LED products on the market.
Our innovations include:
Self-contained color changing light

Above water accent lighting for boat interiors

Courtesy lights to illuminate walkways, entries and bait wells
Expansion of the size ranges of offered lights

Installation accessories to provide you with the easiest installation possible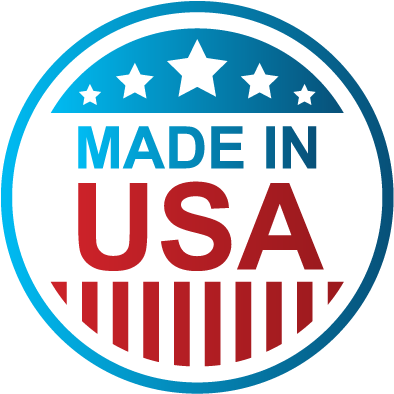 All Shadow-Caster® products are proudly designed and manufactured in Clearwater, Florida, USA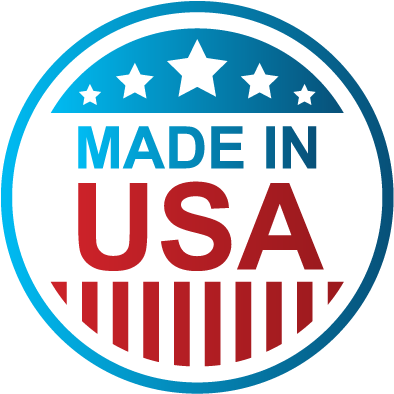 All Shadow-Caster® products are proudly designed and manufactured in Clearwater, Florida, USA